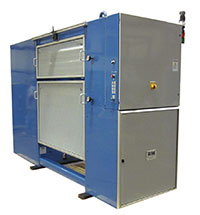 Top side Aqueous Pattern
Coater - Exit View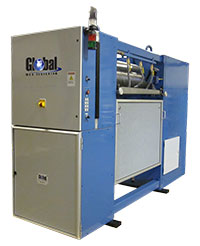 Top side Aqueous Pattern
Coater - Entrance View
Introduction:
The GWF Aqueous Coater is built for performance, reliability and precise lay down of high quality spot or flood aqueous coating. It is designed for installation between the last print unit and the press dryer. Aqueous coatings is water base coating scuff-resistant and used to protect print mailed pieces as they go through the mail, it provides better rub protection than varnish and dries quickly. In addition, It is used to provide a high-gloss or matte surface that deters dirt and fingerprints and enhance the look of brochures, catalog covers and direct mail pieces.
Application:
The GWF 38" Aqueous Coater incorporates three cylinders design and a motorized pan roller semi-submerged in a coating fountain pan. The coating flow into the pan via a closed loop circulation pump,  as the pan roller comes in contact with the transfer anilox roll, a thick layer of  viscous coating is deposited on the roll.
 A doctor blade is used to scrape the excess coating from the surface leaving just the measured amount of coating in the cells. A Flexo plate mounted on the plate cylinder, receives the coating from the cells and transfer it to the printed paper.
It is important to note that the characteristics of an anilox roll determine the amount of coating that will be transferred to the plate. Although, there are  few times where  smooth transfer cylinder along with the metering roll were used and the lay down quality was equally good.
Standard Features:
Designed for maximum mechanical speed up to 50,000iph
Heavy duty, thick steel frames for added mass and stability
All rotating cylinders are dynamically balanced.
One side application (top or bottom side)
Three cylinders design, full width, single press repeat
Nickel plated plate cylinder with reel rod lockup mechanism
Impression cylinder designed to retard ink tracking on the web
Oversized water cooled anilox transfer cylinder designed to reduce the possibility of misting
Anilox cylinder equipped with self adjustable metering doctor blade
Sunday Drive, a continuous motorized slow motion for glue during press down time
Removable coating pan and pan roller for fast clean up
Remote control box for motorized movements
Centralized grease lubrication system
CE Compliant
Custom Design:
Additionally, GWF offers custom made design and variety of models that cover a wide range of print repeat lengths and large web widths. Contact GWF for further details.
---
Product Applications:
Magazines
Brochures
Catalogues
Promotional Mailers
---
Click to view larger
---