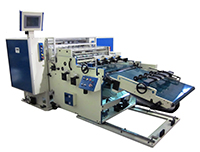 Model-H.S. Rotary Cutter/
TED Delivery Table
Specifications:
Designed for maximum web width up to 38" (965mm)
Designed to cut & deliver 2, 3, 4 & 5 around products of press repeat
Delivers full bleed trimmed or non-bleed trimmed products.
Ability to cut and deliver flat full sheet products (see note below)
Produce straight cut and contour cut products
Recommended minimum product length possible = 3" (76mm)
Minimum chip size = .25" (6.35mm)
Knife To Knife Cut accuracy within .003" (.08m)
Multiple ribbons thickness cutting capability = .067" (1.7mm)
Paper Weight, from 35# (51gsm) up to 10pt. (300gsm)
Maximum speed = 2,000 ft/min. (610m/min.)
Notes:
Production speed can be limited by the type of paper and paper weight especially when paper is light stock as well of speed limitation due to the type of stacker used behind the delivery table. For delivery of flat full sheets, it is recommended to use a silicon applicator prior to the Rotary Cutter
Major Features


Model-H.S. Rotary Cutter/
TED Delivery Table
"Left Hand Design"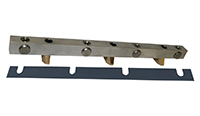 Cost Efficient Disposable Knife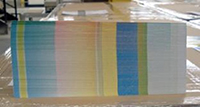 Precision Straight Cut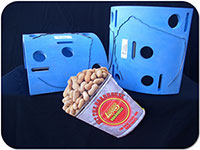 Contour Die Knife
Rotary Cutter:
Adjustable Entrance Fold Holder
Entrance motor driven roll with variable speed and texture surface
Pre-piped grease lubrication system with two centralized manifold
Double around cylinder cutting couple
Independent motor driven cutting couple
Anti-backlash Helical gear cylinder couple in oil bath
Thermo stabilized cutting couple
Motorized knife impression adjustment via eccentric on anvil cylinder
Hardened anvil cylinder with 2/3/4 & 5 up product pinhole configuration
Knife cylinder with dovetail groove knife block lock-up construction
Zero Tolerance " Cutting Edge" Knife Locator Arm
Disposable knife system with .25" (6.3mm)minimum chip capability
8 inch (20cm) diameter waste hood system for chip removal
Gun bore holes in anvil cylinder to aid in ease of removal of used pins
± ¾" (19mm) manual sidelay whole machine
CE Safety Compliance
T.E.D. Delivery Table:
Entrance variable speed upper and lower tape accelerator section
Trailing edge knock Down Wheel with speed selection for 2/3/4 and 5 up products
Auto Rephrasing TED Knock Down Kicker Wheel
Variable speed 1st stage full width belt section and lead edge wheel to create product shingle
Variable speed 2nd stage full width exit belt section with pneumatic up/down & waste removal
Pneumatic assist roll back delivery table
10" color HMI:
Remote of all inline/offline operation
Registration control screens for all tool cylinders
Precision make-ready knife indexing
Fault screens with diagnostics aids
Fixed move (0.0002" per move) knife pressure adjustment
Draw Rolls (RC draw and inline/offline)
Variable speed tension control
Motor load feedback
Delivery table control
Variable speeds for all motors
Auto product knock-down recovery
VPN:
Remote Internet access to all drive and control systems
Remote service and diagnostic
Firmware and software updates
High Speed Variable Rotary Cutter/ with TED
Delivery Table General Arrangement Layout