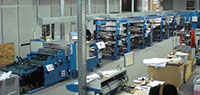 GWF – U-Shaped Inline Installed
on KBA C16 press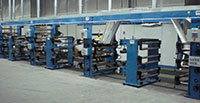 GWF – Portable Bi-level
Plow Towers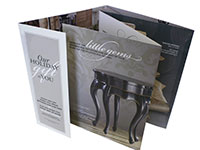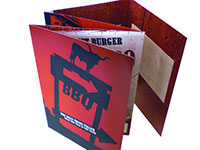 Definition:
In-Line Finishing Condenses the web printing process, the bindery process & the letter shop process into one continuous operation.
Speed-to-market since there usually are no post-press operations, shipping or mailing can begin soon.
Depending on the format, 250,000 or more pieces can be most effectively produced in-line.
Application:
Personalizing
Gluing
Coating
Perforating
Die Cutting
Slitting
Shifting
Folding
Cutting
Products:
Limitless type of products can be produced inline with the web press at press speeds up to 1,600 fpm (755mpm):
2pg-32pg brochures
Mini catalogs/ booklets
Order forms with or without reply envelopes/ cards
Bankcard applications, nested or non nested letters
Eye catching products such as Pop-Ups, Pull tabs
Dry Peel, Integrated label and Stickers
Scratch & Sniff Inline Perfumed Micro Fragrance Products
UV & Aqueous Varnish Coated Products
Security Ink Printed Products
Promotional Signatures W/ Multiple Shapes Die Cut & Contour Cut
Personalized Enclosed Mailers W/ Promo Personalized Cards
Magazine Covers For Saddle Stitching & Perfect Bind
Diverse Formats of Direct Mail Products
Create Booklet Without Stitching
Many different page counts and sizes of booklets can be produced in-line by spine gluing the pages. These booklets can be standalones, like self-mailers, or can be incorporated into envelope packages. Booklets and folders also can incorporate unique folds and shapes that are difficult to produce in a conventional bindery setting, such as multiple roll folds and Z-folds.