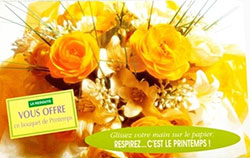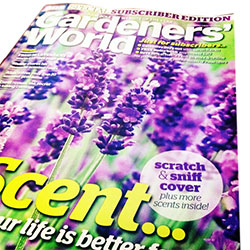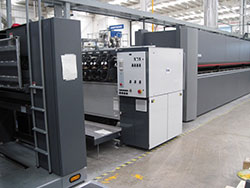 GWF Micro-Fragrance Applicator
on Goss S2000
Micro-Fragrance Encapsulation Technology:
Micro-fragrance is a technique for trapping Scent inside seal-tight 4-8µm microcapsules and applied to a substrate during the printing process. When the substrate is rubbed, the perfume is released with all of its substances. The process of the encapsulation of the perfume is formulated as follows:
Perfume composition provided by the perfumer.
Scent supplied from the aroma library of microencapsulation specialist.
Printed tests are carried out on paper to verify perfume strength in capsules prior to final production.
In printing, the microcapsules are incorporated into a slurry or varnish.
Micro-Fragrance Applicator
Introduction:
The GWF Scratch 'n Sniff fragrance applicator is designed to apply encapsulated micro-fragrance varnish over print, it is installed between the last print unit and the press dryer. Printing a scent is used by commercial printers who seek effective and efficient ways to engage consumers and add value to future campaigns with scent activation. Printed scents can be integrated in cosmetic catalogues, magazine inserts, direct mail pieces and other promotional printed pieces.
Standard Features:
Custom design to suit variable press sizes. 8pg, 16pg, 24,pg, 32pg, 48pg, 64pg
Designed for high speed application
Available in top side, bottom side and perfecting two sides application
Accept up to 4 separate fragrance applicators per side on 16 pg press.
Accept up to 6 separate fragrance applicators per side on 24 pg press.
Heavy duty, thick steel frames for added mass and stability.
All rotating cylinders are dynamically balanced.
Closed loop circulation chilled pump
Centralized grease lubrication system
CE Compliant
Note: Contact GWF for custom design.
Product Applications:
Micro-encapsulated fragrances Scratch 'n Sniff
Promotional mail & Cosmetic Catalogues
Micro-Fragrance Applicator on Goss S 2000 16 pg, (38") 965mm web width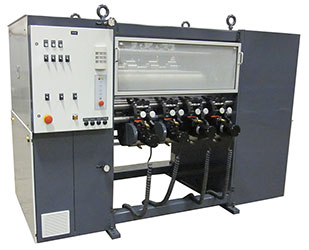 Micro-Fragrance Applicator on Lithoman IV, 64 Pg, (66") 1680mm web width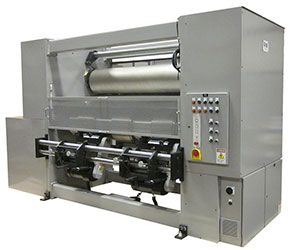 Micro-Fragrance Applicator on Goss S2000 24 pg, (57") 1450 mm web width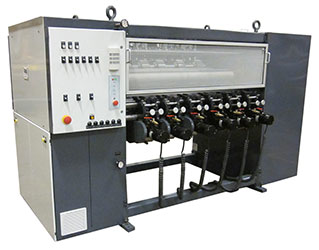 ---
Product Samples
Click to view larger
---