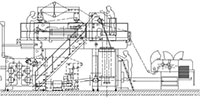 GWF Prefolder Mounted on
Goss M-600 Press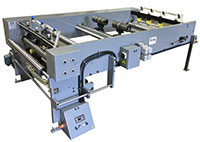 GWF Prefolder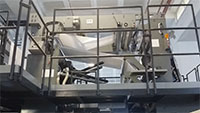 GWF Custom Design
Prefolder Mounted on
Komori S38 16 pg Press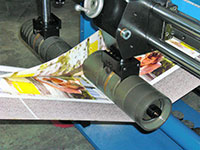 Single Gate Fold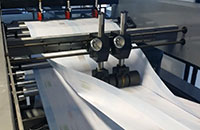 Double Gate Fold
Introduction:
The GWF Plow Folder (prefolder) is designed to be installed on commercial web offset press equipped with combination folder, sheeter or rotary cutter.
Installation:
The GWF Plow Folder is a single station plow folding assembly which installs directly before the press folder, sheeter or rotary cutter.
Application:
Upon entering the Plow Folder, the web may be trimmed or slit into ribbons. Two side by side plows folders are provided in order to fold one or both edges of the web in either the plow up or plow down position. Immediately after the fold is formed it passes through the fold-holding rollers where it is permanently held in place and creased. By plow folding before former folding, single and double gate fold formats may be produced. Where plow folding before a sheeter or rotary cutter will produce 4-page formats.
Standard Features:
Designed  for maximum web width of 38" (965mm)
One hardened entrance driven roller equipped with four nip pneumatic trolleys and three pneumatic crush type slitters
Two stream plow arrangement to provide plow folds.
Each plow arrangement has manual up/down, side to side plow movements.
Each arrangement is equipped with a rotary plow and support rollers
On the fly 360° rotary plow adjustment
A plow fold hold roller arrangement to complete the fold.
Drive connection consisting of all necessary parts from a drive pick-up point to the unit including a clutch to silence the unit.
Standard support structure for  installation at a proper elevation
CE compliant
Optional:
Motorized plow sidelay movement with ± ¾" (19mm) on the fly adjustment
Remote for motorized movement
Press station (entry/exit)
Electrical Drive
Symbology on electrical and pneumatic panels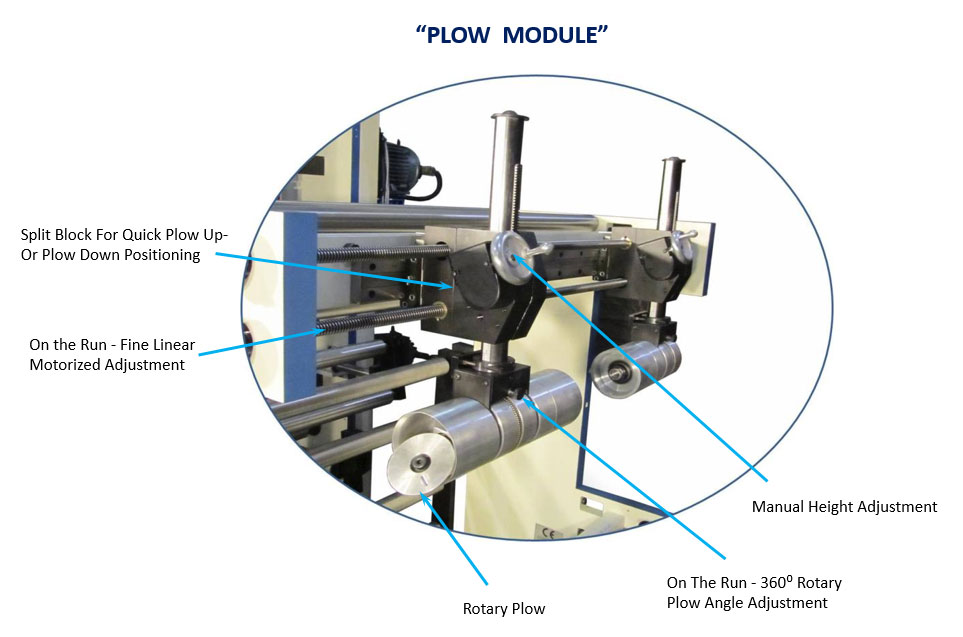 Specifications:
Minimum plow fold =   1" (2.54cm)
Maximum plow fold = 20" ( 51 cm)
Minimum paper g/m2 =  35
Maximum paper g/m2 = 300
Maximum speed = 70,000IPH
Note: Requires GWF scoring module for paper weight over 150 g/m2
---