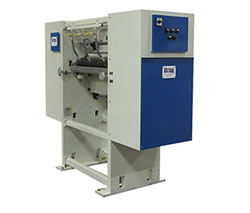 Top side Remoistenable Pattern
Gluer - Entrance View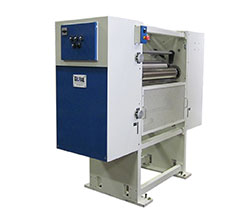 Top side Remoistenable Pattern
Gluer - Exit View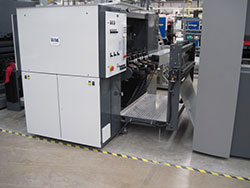 Installation between last print
unit & dryer - Exit View
Introduction:
The GWF Remoistenable Pattern Gluer is designed to be installed between the last print unit and the press dryer. It is well engineered robust gluer, built for precise lay down of spot or flood remoistenable glue for the production of promotional stamps, return envelopes inserts and other direct mail pieces. Other applications are rub-off inks, silver or gold for game cards and 'scratch-n-sniff" micro-encapsulated fragrances for catalogues and magazine inserts.
Application:
The remoistenable pattern gluer incorporates three cylinders design with a motorized pan roller immersed in a glue fountain pan. Glue flow into the fountain pan via a closed loop circulation pump through a supplied glue tank,  the transfer cylinder picks up the glue film from the pan roller and transfer it to a flexo glue pad mounted on the surface of the plate cylinder, the glue pad deposit the glue on the printed  paper.
Standard Features:
Maximum mechanical speed up to 50,000iph
Maximum web width of 1020mm (40")
One side application (top or bottom side)
Three cylinders design, full width, single press repeat
Nickel plated plate cylinder with reel rod lockup mechanism
Impression cylinder designed to retard ink tracking on the web
Oversized water cooled transfer cylinder designed to reduce the possibility of misting
All rotating cylinders are dynamically balanced
Sunday Drive, a continuous motorized slow motion for glue during press down time
Removable glue pan and pan roller for fast clean up
Remote control box for motorized movements
Centralized grease lubrication system
Water cooled glue tank equipped with pump and motorized mixer
CE Compliant
Custom Design:
Additionally, GWF offers custom made design and variety of models that cover a wide range of print repeat lengths and large web widths. Contact GWF for further details.
Product Applications:
Return Envelopes
Business Reply Card
Scratch-n-sniff Fragrances
Rub-offs "Game Cards"
Aqueous Coating
---
Click to view larger
---