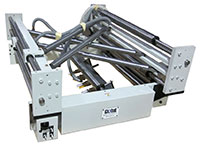 GWF- Ribbon Shifter,
Custom Design
1 web in x 2 ribbons out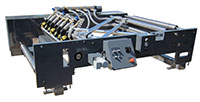 GWF- Ribbon Shifter,
Standard Design
1 web in x 2 ribbons out
Introduction:
The GWF Ribbon Shifter (prefolder) is a single web angle bar assembly incorporating an entry hard driven roll with crush slitters and nip trolleys, four angle bars and a page to page ribbon swing compensator. It is designed to slit the full web into two ribbons and shift the ribbons in order to produce additional pages with the combination folder.
Installation:
Designed to mount on a web press prior to a combination folder.
Application:
Upon entering the prefolder, which installs immediately before the press folder, the web is slit into two similar or dissimilar width ribbons. The ribbons may then be repositioned either one over the other, to either side or down the centerline of the press. One of the two ribbons is then compensated into the other for page-to-page registration before passing over the press former board. By stacking the ribbons, a number of common folds may be produced as well.
Standard Features:
Designed  for maximum web width of 38" (965mm)
One hardened entrance driven roller equipped with four nip trolleys and one pneumatic crush type slitter
Four 2/3 width angle bars, 2.125" (54mm) diameter installed on linear type bearings with kip handles for fast gross movement
Ribbon angle bars are motorized with ± 1/4" (6mm) sidelay movement
One ribbon page to page swing type motorized compensators
Standard mechanical drive connection from standard drive pick-up point including pin clutch to silence unit
Standard support structure for installation at a proper elevation
Symbology on electrical and pneumatic panels
CE compliant
Optional:
Remote for motorized movement
Press station (entry)
Electrical Drive
Blower and heat exchanger
Remark: The full web must pass via the folder full cutoff linear compensator before entering the GWF Ribbon Shifter in order to adjust the print-to-cut of the 2 ribbons
---
Click to view larger
---