Cutting Edge Technology Designed For Quick Make Ready & Variable Repeat Sizes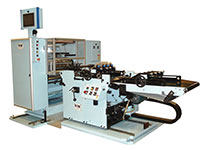 VCC Rotary Cutter /
Skate Delivery Table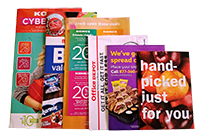 Variable Size
Finished Products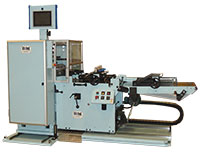 VCC w/ Sidelay Adjustment
Specifications:
Designed For Maximum Web Width Of 20" (508mm)
Maximum Speed = 1,000 ft/min. (305 m/min.)
Single Repeat Cutting Couples
Product sizes = To meet most USPS mailing requirements
Minimum Chip Size = .25" (6.35mm)
Cut-to-Cut Accuracy Within .003" (.08m)
Multiple Ribbons Thickness Cutting Capability = .067" (1.7mm)
Paper Weight, from 35# (51gsm) up to 10pt. (300gsm)
Features:
Computer Controlled Functions Via HMI Touch Screen
Quick Make Ready W/ Knife Change Only
Entrance Fold Hold Idler Rollers For Incoming Folds
Entrance Driven Roll, Variable Speed
Single Around Cutting Couple, Motor Driven
Helical Gear Cylinder Cutting Couple in Oil Bath
Thermostabilized System
Motorized knife impression adjustment via eccentric system
Hardened anvil cylinder, Chrome Plated, with 2, 3 and 4 up product pinhole configuration
Knife cylinder with dovetail groove knife block lock-up construction
Delivers Full Bleed Trimmed Or Non-Bleed Trimmed Products
Disposable knife system with .25" (6.35mm) minimum chip capability
Waste hood system for chip removal
Gun bore holes under pinhole rows in anvil cylinder to aid in ease of removal of used pins
± 3/4" Manual sidelay whole machine
Skate Delivery Table With Quick Make-Ready.