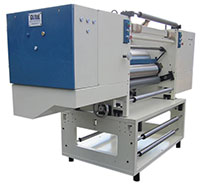 Entry View High Cart -
Portable Wet Flap Pattern Gluer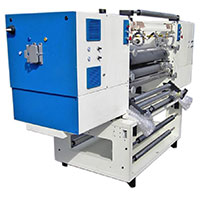 Exit View High Cart – Portable
Wet Flap Pattern Gluer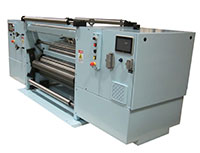 Entry View Low Cart – Ambidextrous
Portable Wet Flap Pattern Gluer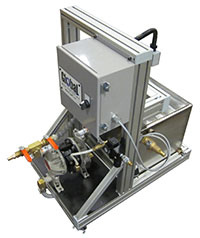 Chilled Glue Tank
Introduction:
The GWF 38" Portable Wet Flap Pattern Gluer-UV Coater is designed for flexibility and ergonomic lay down of wet glue and UV coating. It is used as an envelope pattern gluer or as a seal UV coater and is installed on an inline or on an offline finishing system for the production of direct mail pieces. Applications are wet pattern glue for reply envelopes, spot gluing for holding two printed pieces together, UV base coat for stickers and labels, UV scratch-off for games and micro-fragrance Scent strips.
More compact designs are available - Click here to view Mini Portable Gluer.
Application:
The GWF Portable Wet Flap Pattern Gluer-UV Coater incorporates two cylinders design, an impression roller and a motorized pan roller immersed in a glue fountain pan. Glue flow into the fountain pan via a closed loop circulation pump through a supplied glue tank, the transfer cylinder picks up the glue film from the pan roller and transfer it to a flexo glue pad mounted on the surface of the plate cylinder, the glue pad deposit the glue on the paper.
Standard Features:
Designed for installation on 8pg and 16 pg Inline / Offline
Designed for maximum mechanical speed of 40,000iph
Designed for maximum web width up to 1020mm (40")
Top side application.
Heavy duty, thick steel frames for added mass and stability
Two cylinders design, full width, single press repeat
Adjustable impression roller
Removable glue pan and pan roller for fast clean up
EPDM pan and metering rollers
Sunday Drive - continuous slow motion for glue during press down time
Centralized grease lubrication system
Shaftless Drive
Integrated  DMR Automatic Cut-off  Register Control
HMI operator touch screen panel
Casters for portability
VPN Ethernet Connection
CE conformity
Product Applications:
Return Envelopes
Spot Gluing for gatefolds
UV cure base coat for stickers & labels
UV scratch-off for games
Micro-encapsulated fragrances Scent strips
Product Samples
Micro-Fragrances Scent Strip
Micro-fragrances samples are created and designed to deliver a unique olfactory and tactile experience to customers, It is a great way to entice the customer to interact directly with the product.
These scented inserts are used to sell perfume and can be found in magazines and department stores. They are usually folded flaps of paper that contains microfragrance slurry. When you unfold it, the slurry pulls apart and releases the fragrance. This method of advertising fragrance has become the most successful way of advertising fine fragrances in the United States and Europe.
Click to view larger
---
---
Labels, Cards, Repositionable Notes, Dry Peels and Labels:
In-line label application equipment allows the addition and preformed pressure-sensitive or dry release labels, these might include temporary membership cards, discount cards and point - of - purchase coupons for marketing and in-store use, yes-no-stickers and repositionable "sticky" notes. These items also can be personalized.
Application:
Choice of Retailers and Ad Agency's
Zero tacked when released
Print or image on back of card
Print or image under adhesive
Click to view larger
---
---
Incorporated Stickers & Labels:
These might be created from a repositionable adhesive, for multiple-use stickers, or a permanent pressure-sensitive adhesive, for a single–use item such as return address or gift labels. The labels can be any size or shape, and can be incorporated into direct mail, inserts, magazines and catalogs.
Application:
Integrated Labels for mailers bind-ins, inserts
Sticker Sheets for magazine Inserts, saddle – stitched and perfect bound
Game pieces
Printable under stickers
Click to view larger
---
Form Envelopes, Reply Business Cards:
Form Envelopes, Cards or pouches. Business reply envelope, business reply cards, faux credit cards and pouches all Can be created In-line and tipped on or perforated off of the finished product.
Click to view larger
Scratch Off, Pull Tabs, Peel and Reveal:
Scratch off is a fun and effective marketing method in promoting interest in many different types of products such as brochures, mail pieces and other promotional. Variable Data for sweepstakes, pin numbers, codes, sequential numbering, barcodes, names, winning numbers, locations, or image.
Click to view larger
---